High ursulin hydrobromide injection 2ml:4mg
High ursulin hydrobromide injection 2ml:4mg
[Drug Name] Generic Name: Homocoumarin Hydrobromide Injection
English name:Lappaconitine Hydrobromide Injection
Chinese Pinyin:Qingxiusuan Gaowujiasu Zhusheye
【specification】2ml:4mg
【Indications】 For moderate or higher pain.

联系我们
产品描述
High ursulin hydrobromide injection
High ursulin hydrobromide injection 2ml:4mg
Please read the instructions carefully and use under the guidance of a physician
【Drug name】
Generic name: high ursulin hydrobromide injection
English names:Lappaconitine Hydrobromide Injection
Chinese pinyin:Qingxiusuan Gaowujiasu Zhusheye
【ingredients】
Chemical name: The main component of this product is gauconine hydrobromide, and its chemical name is: (1α, 14α, 16β) -20-ethyl-1,14,16- Trimethoxy aconitane-4,8,9-triol 4- [2- (acetylamino)] benzoate hydrobromide monohydrate.
Chemical Structure: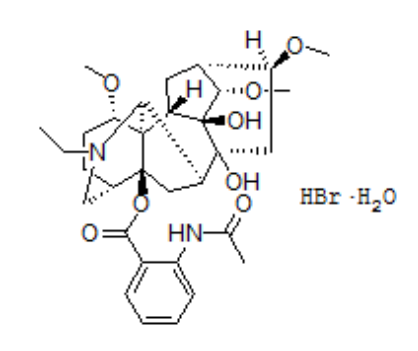 Molecular formula:C32H44N2O8·HBr·H2O
Molecular weight:683.64
Excipients: phosphate buffer, activated carbon (for injection).
【Properties】 This product is a colorless, clear liquid.

Scan the QR code to read on your phone
We could not find any corresponding parameters, please add them to the properties table